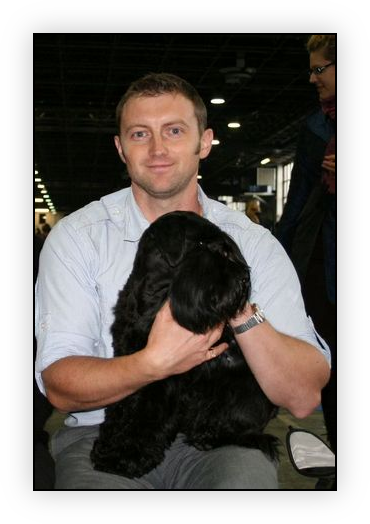 Welkom op mijn website. Mijn naam is Andrey Shmal, eigenaar van de kennel 'Amstel and Don'.
Van huis uit ben ik dierenarts en professioneel hondentrimmer.

Mijn liefde voor schnauzers begon lang geleden. Riesenschnauzers trokken het eerst mijn aandacht. Omdat ik klein woonde, kon ik die niet nemen. Een goede oplossing was daarom een dwergschnauzer. Op de World Dog Show in Amsterdam (2002), ontmoette ik Cyriel de Meulenaer (van de Havenstad). Hij gaf mij inspiratie en motivatie om zwarte dwergschnauzers te gaan showen en fokken. Dat doe ik nu met veel inzet en plezier.

Ik hoop dat u veel interessante informatie vindt op mijn website: foto's , artikelen en nieuws en nodig u van harte uit voor een kennismaking met de kennel 'Amstel and Don'.
Welcome to my website. My name is Andrey Shmal, owner of kennel 'Amstel and Don. Originally I am a veterinary and a professional groomer.

My love for schnauzers began long ago. Giant schnauzers were the first to draw my attention. Because I lived in a small flat, a mini shnauzer seemed to be more appropriate. At the World Dog Show in Amsterdam (2002) I met Cyriel de Meulenaer (van de Havenstad). He inspired and motivated me to begin with showing and breeding black mini schnauzers. I do this with a lot of effort and pleasure.

I hope you will find interesting information on my website: photo's, articles and news. I invite you to get to know 'Amstelanddon.nl

---